There is a lot of online discussion surrounding what shoes are the best for rucking. But, if you want to know the truth, the best shoes for rucking are the ones that feel best to you.
That said, let's dive into some specifics that might help you out.
What should I look for in a Rucking Shoe?
Can I Ruck in Running Shoes?
Are Boots Better for Rucking?
Are there any shoes that are bad for rucking?
What should I look for in a Rucking Shoe?
When it comes to selecting the best shoes for rucking, there are several factors you should consider. Rucking involves walking or hiking long distances with a weighted backpack, so you need shoes that provide comfort, stability, durability, and support. Here are some tips to help you pick the best shoes for rucking:
Sturdy construction: Look for shoes with a solid construction that can withstand the rigors of rucking. The shoes should be made of durable materials, such as synthetic fabrics or leather, with reinforced stitching.
Comfortable fit: Ensure that the shoes fit well and provide ample support and cushioning. Look for shoes with a roomy toe box to prevent blisters and discomfort. Consider trying on shoes in the late afternoon or evening when your feet are slightly swollen, as this will give you a more accurate fit.
Excellent traction: Rucking often involves traversing various terrains, including trails, pavement, and uneven surfaces. Choose shoes with a grippy outsole that offers good traction to prevent slipping and provide stability. If you plan on being offroad, you'll want a more agressive tread, like a trail shoe or boot. Conversely, if you're mostly on pavement, you'll want something more akin to a running shoe.
Supportive midsole: A supportive midsole is crucial for rucking, as it helps absorb impact and provides stability. Look for shoes with a cushioned and responsive midsole that offers adequate arch support.
Breathability: Rucking can be physically demanding, causing your feet to sweat. Look for shoes with breathable materials and mesh panels that allow airflow to keep your feet cool and dry.
Weight: Consider the weight of the shoes themselves. Lighter shoes can reduce fatigue over long distances, but they should still provide sufficient support and durability.
Ankle support: While some people prefer low-top shoes for rucking, others may require more ankle support, especially when carrying heavy loads. If you have weak ankles or prefer additional stability, opt for mid- or high-top shoes.
Try before you buy: Ideally, try on different shoe models and brands to find the one that suits you best. Walk around the store and simulate rucking movements to assess the comfort and fit. If purchasing online, ensure there is a reliable return/exchange policy in case the shoes don't meet your expectations. NOTE: If I want to really test out a pair of shoes, I always buy from REI. They have a 100% satisfaction guarantee. Even if you wear the shoes for 3 months and decide you don't like them, they'll give you a full refund. For reals!
Can I Ruck in Running Shoes?
Yup! In fact, the shoes I started rucking in, and still use quite often, are Brooks Glycerins. I also have a pair of LaSportiva Wildcats for when I'm rucking on trails and want a little added traction and toe protection.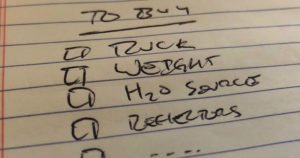 Recently we put out a poll on our Facebook Rucking Group (which, you should totally join). The results were that most people ruck in shoes!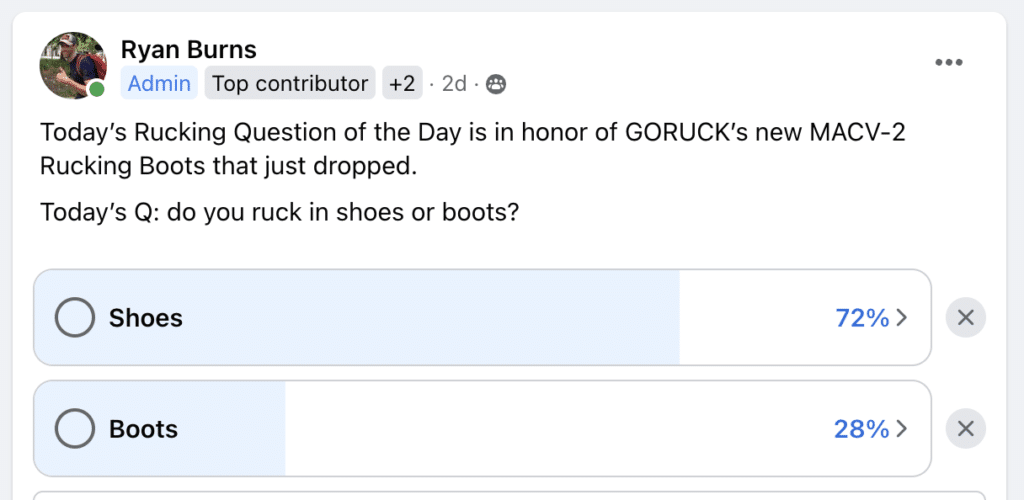 Are Boots Better for Rucking?
Not necessarily. It really comes down to the individual. As noted above, most people in our Rucking Group prefer shoes. But people who ruck in boots usually swear by them.
Boots can be particularly helpful if you are adding a lot of weight to your bag and heading on long rucks with potentially uneven terrain. The additional stability and durability of boots can be helpful.
If you're looking for a rucking boot, we love the GORUCK MACV-1 (better for urban environments) and the GORUCK MACV-2 (better for offroad). These boots were built and designed for rucking. You can check out this review of the MACV-2 Rucking Boots to get a sense if they might be right for you.
Are there any shoes that are bad for rucking?
Maybe. Maybe not.
I'm not sure I'd go for a ruck in my Chucks or my Vans. I certainly wouldn't go for a ruck in cowboy boots or flip-flops. I'd also avoid rucking in my Jordans.
But, again, generally speaking, any shoe that you like and feels comfortable to you should be sufficient for rucking.
---
Got any questions? Drop them in the comment section below and we'll try to help.
---