Carrying heavy loads over long distances is at the very core of rucking. While any backpack and weight might suffice to begin with, you'll eventually want to invest in a backpack designed specifically rucking.
Before we share our list of the best rucking backpacks (aka: ruck), it is important to discuss the features that make for a great ruck.
Menu:
Key Features of a Rucking Backpack
While there is a lot of variety to consider when looking for a great rucking backpack, there are a few features that are critical when considering a ruck.
Quality Material – Many backpacks are made from some sort of polyester material blend. When selecting a rucking backpack, you want to look for one constructed of a very sturdy material, like Cordura (this is the most common material for quality rucking backpacks). Having sturdy material means the ruck will be able to carry a heavy load with less risk of material failure.
Well Padded, Slightly Wide, Shoulder Straps – Even with hip belts and sternum straps, your shoulders are going to bear a large portion of the ruck weight. Making sure that your rucking backpack are adequately padded and not too thin will ensure that the ruck rests comfortably on your shoulders. You only need to ruck once with a thin, poorly padded, shoulder strap to realize how important this is.
Quality Zippers – What is a "quality zipper" you ask? Well, this is the sort of thing that you often know when you see it. Or, conversely, if you have something with a crappy zipper, you'll know it real quick. When looking for a rucking backpack, pay attention to any reviews that talk about zipper failures and run away!
Weight Pocket (or laptop compartment) – For those rucking for fitness, as opposed to those rucking for military preparation, most of your weight will come from something like a Ruck Plate. Having a dedicated plate pocket (like in the GORUCK Rucker) or a laptop compartment in your Rucking Backpack ensures that your weight is secure, close to your back, and won't move around while you're rucking.
Water Bladder Feed – You don't want to deal with bottles of water while you're rucking. Making sure that your rucking backpack has an access feed to run a water bladder tube through is an absolute must.
While there are more features that may be important, the above are the critical pieces.
With that being said, here are our top rucking backpacks.
Best Overall Rucking Backpack – GORUCK Rucker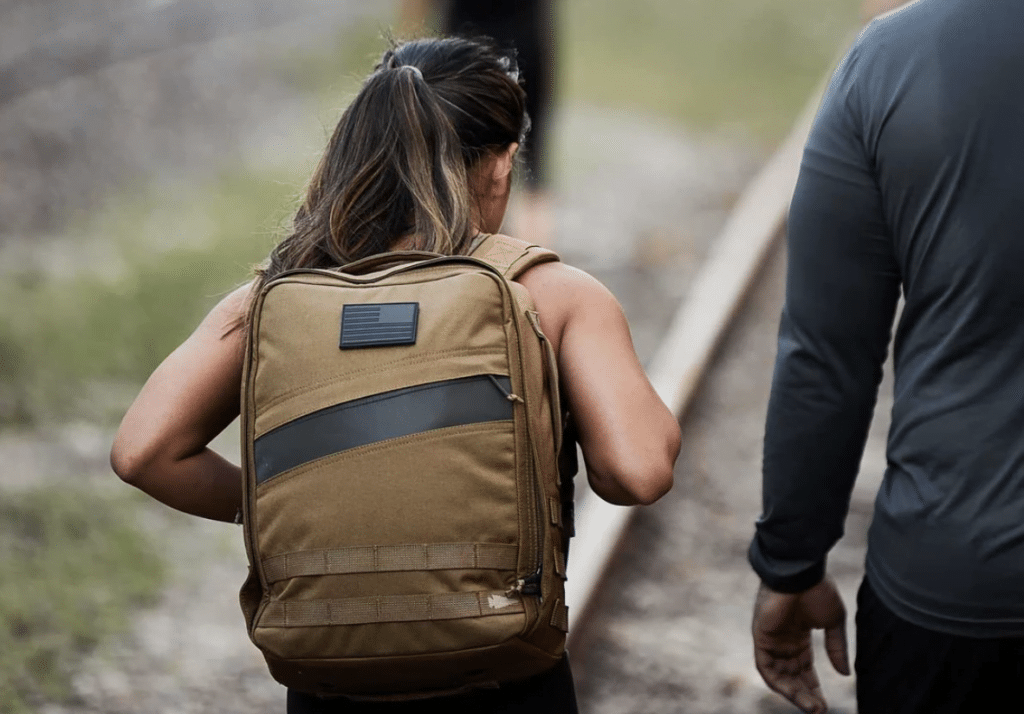 The GORUCK Rucker will be the best overall rucking backpack for most people. Build specifically for the rucking market, GORUCK has delivered a rucking backpack that can't be beat.
Here is our full official Rucking.com Rucker 3.0 Review.
While the price point of $215 might be shocking to those just getting into rucking, it is actually quite well priced for what you get. Here are some features that make GORUCK Rucker stand out as a superior rucking backpack:
Quality Construction – GORUCK is notorious for building bombproof bags. These packs are built to stand up to the abuse of their GORUCK Challenge events and much more. Quality is top notch here.
Ruck Weight Pocket – GORUCK knows you're going to be carrying weight and has a high quality pocket designed exclusively for holding a ruck weight. The plentiful, high quality velcro ensures they ruck weight won't be going anywhere.
Built in Reflector – Safety while rucking, especially in urban settings, is critical. The GORUCK Rucker has elegantly integrated a reflective strip across the back of the pack, increasing visibility when rucking at night.
210d Cordura – Unique to the GORUCK Rucker is the use of 210d Cordura on the back and underside of the shoulder straps. While still incredibly durable, the 210d material is far smoother than the common 500d and 1000d Cordura found on most rucking backpacks. This translates to less abrasion on your shirts and a smoother "feel" when on your back.
4 Handle Versatility – While most rucks only have one handle on the top, GORUCK has included a heavy duty handle on all four sides of this rucking backpack. The addition of these handles make the ruck exponentially more useful as a fitness tool for things like rucking workouts.
Lifetime Warranty – GORUCK is known for their Lifetime SCARS Program. Basically, if anything happens to the ruck (short of you dragging it behind your car, they will fix it for free. This alone makes the purchase price much more reasonable.
For more information, check out the GORUCK Rucker here.
Best Rucking Backpack and EDC – GORUCK GR1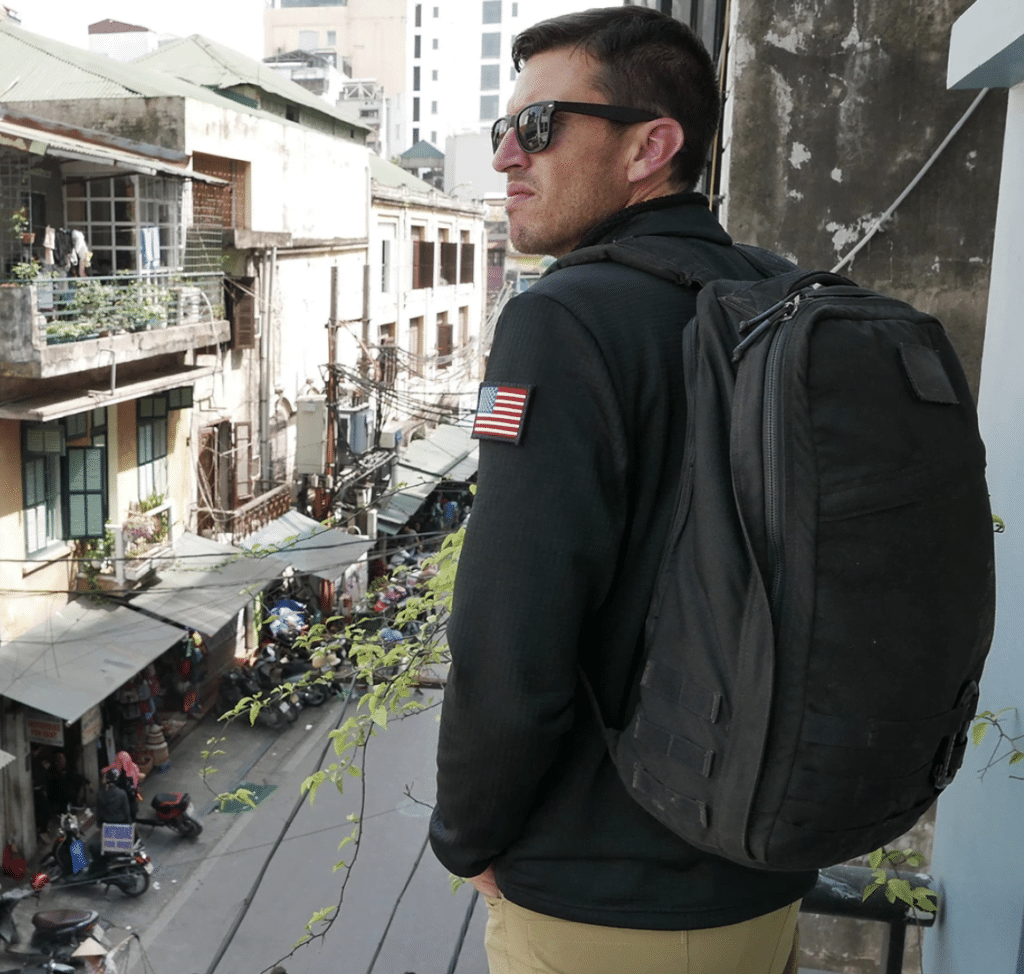 If you're looking for a Rucking Backpack that can double as your every day carry bag, or a bag you can travel with, the GORUCK GR1 is the one bag to rule them all.
When deciding on the GR1, you're going to give us a handfull of the features that make the GORUCK Rucker our favorite rucking backpack. In particular you'll lose the 210d Cordura on the back, the extra handles, the ruck weight pocket, and the reflective strip.
What you will retain are the things that make the GORUCK GR1 a great rucking backpack and everyday carry.
Quality Construction – The GORUCK GR1 was built to be a bag at home in New York and Bagdad. Designed by GORUCK's fonder to be a rucking backpack he'd be willing to send to war with his special forces brothers, the quality of material and construction of the GR1 can't be beat.
Lifetime Warranty – As with the GORUCK Rucker, if anything happens to the ruck, GORUCK will fix it for free. This alone makes the purchase price much more reasonable.
Versatility – The GR1 is probably one of the few rucking backpacks that won't look out of place in day-to-day life. While it has a subtle military feel because of the molle and patch panel, it is far more urban and stylish than most rucks.
Laptop Compartment – The false bottom laptop compartment doubles as an excellent location to store ruck weights, keeping them secure and close to your body.
For more information, check out the GORUCK GR1 here.
Best Budget Rucking Backpack – Rush 12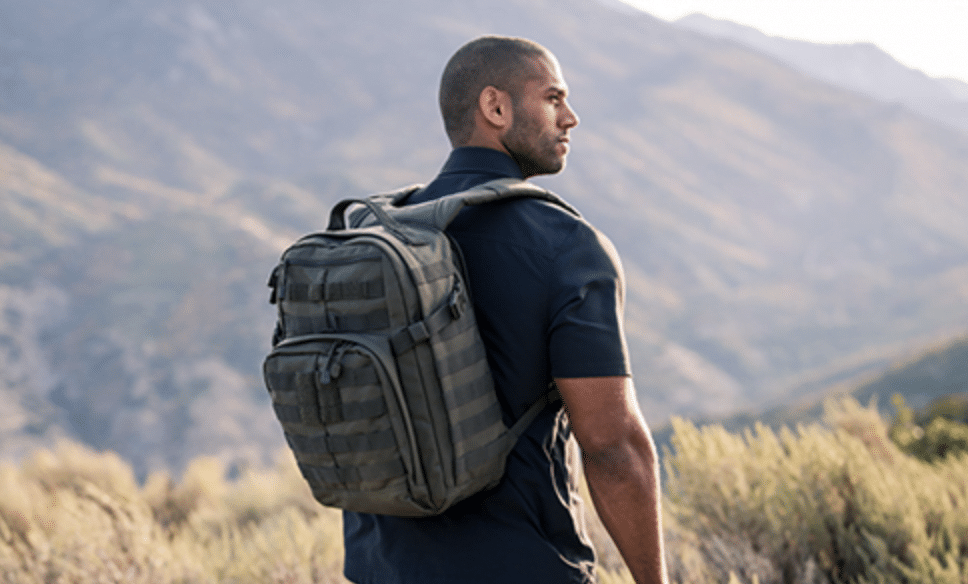 While dropping several hundred dollars on a ruck isn't an option for everyone, there are still some great rucks in the $100 range.
The 5.11 Rush 12 stands out as a really great budget rucking backpack.
Padding and Construction – Lower priced rucks usually skimp on construction, especially when it comes to padding and shoulder straps. That is not the case with the Rush 12. Ample padding and quality construction make this a super comfortable rucking backpack.
Laptop Pocket – While not as secure as the GORUCK Rucker or GR1, there is a dedicated laptop pocket in the Rush 12 that can serve to secure your rucking weight.
Pockets and Panels – If you plan on carrying lots of "stuff" with you while rucking, the Rush 12 probably has a place to store it. With a front panel that zips open you'll find plenty of spaces to store and organize your small quick-grab items.
Price – For the price, this is probably the best rucking backpack you're going to find at or under $100.
For more information, check out the Rush 12 here.
Best Rucking Backpack for Military
If money is no object, the Mystery Ranch Blackjack 50 is the ruck for you. Designed after their Spear Assault (the new standard-issue pack for USSOCOM) the Blackjack 50 rucking backpack is as top-of-the-line as you can get.
State of the Art Frame – The frame construction is designed to be rigid and yet move with you. The construction allows the frame to flex with your body, resulting in top-down load transfer to comfortably carry heavy loads.
Adjustable – The Futura Yoke easily micro adjusts to the torso length allowing the proper amount of stand-off between the back and frame.
Advanced Belt System – The Redirect waist belt system is super easy to tighten and the way the belt is constructed the belt conforms over the hips to effectively transfer and distribute the weight eliminating slippage down over the hips.
Weight – Only 7.2 pounds.
Too much to cover here – These features only begin to scratch the surface of what this rucking backpack offers. For a deep dive, visit the Blackjack 50 website.
For more information, check out the Mystery Ranch Blackjack 50 here.
Best Budget Rucking Backpack for Military
It isn't fancy. It isn't sexy. But, it is as standard issue as they come. If you're looking to put in some rucking miles and don't want to spend much money, the ALICE rucking backpack is for you.
ALICE stands for All-Purpose Lightweight Individual Carrying Equipment. While the ALICE ruck has been mostly replaced by the MOLLE pack, the ALICE pack is an inexpensive way to get get used to military issued gear and putting in ruck miles.
While you can find some ALICE packs online, the best bet is to head to your local military surplus store and pick one up there. Of course, you could also skip the ALICE and upgrade to the MOLLE, though it will probably cost a little more.
Want more recommendations for the Best Rucking Backpack? Check out the backpack reviews at the Best Rucking Gear site.