For some people, the idea of carrying a heavy load for miles can be intimidating and monotonous. Or, perhaps you've been rucking for a long time and it has just become a bit monotonous.
If you're looking to add some excitement and creativity to your rucking experience, here are some 8 ideas to help make your next ruck more fun:
Ruck with a photo scavenger hunt: Turn your rucking into a fun game by creating a photo scavenger hunt. Set a list of items or landmarks you want to find on your rucking route, and take a photo of each one.
Do a themed ruck: Some great ideas are Pizza Ruck, Taco Ruck, Brew Ruck, Doughnut Ruck, Ice cream ruck (links are to themed ruck patches!!!!). The list could go on and on. Pick a theme and ruck form point to point enjoying stops along the way.
Participate in a Rucking Challenge: RuckingChallenges.com offers a different rucking challenge each month and if you can even earn a cool patch. Now THAT is fun!
Ruck with friends: Invite friends to join you on your rucking journey. Not only will you have someone to share the weight with, but you'll also have the opportunity to catch up and bond while rucking. If you can't convince someone to join you, find a local Ruck Club to join.
Ruck with a purpose: Give your rucking a purpose by participating in charity walks or rucking events that support a cause you care about. This will give you a sense of accomplishment and motivation to keep rucking. Just check your local news sites to find charity walks or races and just show up with your ruck.
Do a GORUCK Star Course: Wether you want to be competitive or just go out and have some fun, participating in a GORUCK Star Course is always a good time!
Ruck in different terrains: Hitting the same routes over and over can wear you down over time. Mix things up by rucking in different environments such as parks, forests, or urban areas.
Ruck with an odd object: Find something around the house and take it along on your next ruck. A bucket, a log, a lamp. The added weight and awkwardness of the object will keep you (and passers by) entertained.
There are many creative and fun ways to make rucking more enjoyable. Whether you choose to ruck with friends, participate in events, try a Star Course, try different terrains, or create a photo scavenger hunt, the key is to have fun and enjoy the journey.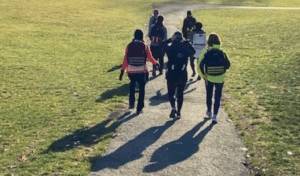 So, get creative and make rucking a fun and rewarding experience!
---
What about you? Have any ideas on how you make rucking more fun? Share them in the comments below!
---