GORUCK has done an amazing job helping to grow the sport of rucking and have helped establish hundreds of Ruck Clubs around the world. We sent out a few questions to Bomber, the Community Manager of GORUCK, to learn a little more about their efforts.
Let's start with the basics for those who might not know. What is a Ruck Club and why should anyone join one?
A Ruck Club is a group of people, Gym, or CrossFit Box that gets together to train and Ruck. Training alone sucks and there is strength in numbers. The friendships you build far outweigh anything else.
Since you've been working at GORUCK, one of your jobs as Community Manager has been to help start, promote, and build Ruck Clubs. Why have ruck clubs become such a big focus for GORUCK?
We want more people out Rucking and training. Get outside and put some miles in. The best thing about GRHQ is Monster and the best thing about GORUCK is the people.
In your experience, what does it take to have a great Ruck Club?
Have consistency and Ruck. That's what makes a great Ruck Club. I do not care if you're a small Ruck Club with only a few people or a large one with a few hundred members. Make it interesting do some service projects, have Rucks with the kids and dogs.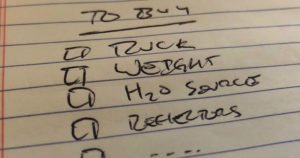 As you've talked to and visited Ruck Clubs around the US, what are some cool things you've seen Ruck Clubs doing?
Service Projects!! I have seen them Ruck to cemeteries and clean headstones, pick up trash in parks, along trails, and roads. Raise money and supplies for hurricane and natural disaster survivors in their community and far away. When I see a Ruck Club doing these things, that's the best part of GORUCK.
If someone is in a place where there isn't a Ruck Club, how can they go about starting one?
Easy stuff! Click this link right here and I will set up a call with them and get them pointed in the right direction and set them up with the process. Right now there are 241 Ruck Clubs and I added three before typing this out. From large cities to small communities. International Ruck Clubs in Europe, Asia, and New Zealand. All connected via Rucking.
Thanks to Bomber for the interview. Click the links if you want to learn more about GORUCK or find a Ruck Club.